The retailers below carry…
The below retailers carry Osmocote® 2 lb. Flower & Vegetable Plant Food. Choose a retailer to locate a store near you.
"Here's the product information you'll want to know"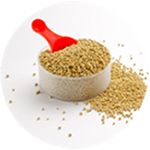 Why is Osmocote® the best?
Learn about Osmocote® Plant Food and find out how and why it works?
Who invented this stuff, anyway?
Osmocote® originated at the Archer Daniels Midland Co. in the mid-1960's.
Tell us what you think!
Your opinion is important to us. Please rate and review your favorite Osmocote® formula.
Questions about Osmocote®?
The FAQ section provides answers to the most popular questions about our products.
The product information you want to know
If you haven't used Osmocote® before, click the link to read the comments and reviews of others.