The Osmocote® Story
For 50 years Osmocote® has the been the plant food of choice for professional growers and passionate gardeners. This is the story of how Osmocote® began and how it became a key item in the toolkits of all serious gardeners."
The Beginning
Osmocote® originated at the Archer Daniels Midland Corporation in the mid-1960's. It was initially intended for cereal crops but the technology was too expensive for widespread agricultural application. Just a few years earlier another unique form of fertilizer was developed at the Crown Zellerbach Corporation. Crown's  contribution to fertilizer technology was in the form of tablets that were designed to feed tree seedlings. Crown Zellerbach licensed the technology to Agriform Company. Both fertilizers struggled financially and their owners decided to sell the know-how. By pooling, they attracted a California venture capital company, Sutter Hill.
Sutter Hill formed Sierra Chemical Company with these two complimentary technologies in 1966. It was based at Union City, CA. Sierra eventually moved to Milpitas, CA, which happens to be in the heart of what's now known as Silicon Valley. In 1971, a Canadian investor, Genstar, acquired Sutter Hill. As part of that arrangement, Sierra was hived off and placed with 50+ private investors who lived mainly in San Jose and Monterey, CA.
Core Values
Robert Severns had been in charge of Operations at Sierra when Sutter Hill owned the company. He became president of the now-privatized company. Mr. Severns recognized the value of the Osmocote® technology, but perhaps more importantly, he understood the horticultural industry. Because consistency and reliability are essential to high valued-added growers, Mr. Severns organized the company to ensure that Osmocote® delivered on its promises. This focus on excellence continues as a core value of the brand.
Better manufacturing processes resulted in improved product performance. When safety and quality were consistent and predictable, Sierra submitted the Osmocote® product to agricultural colleges for testing. Field tests take many years so the reputation of Osmocote® developed slowly, one university at a time and one grower at a time. Sierra's financial performance gradually improved as well. Still, in 1974 following the oil shock, inflation ravaged the industry and the country. Sierra's growth was arrested so its management decided to go into the field and 'talk to the growers'. This experience resulted in a second sustaining and core value, going to the growers for information, feedback and collaboration.
Around this time, Jay Rossi, a marketing executive, joined Sierra. Under his influence, and with the support of Robert Severns, the company morphed from a mainly technical and operational entity into one where fulfilling customer need also became important. Of course its private owners expected to profit from their investment, but management believed that Sierra's financial success would ultimately reflect the extent to which it helped nursery growers to achieve their goals. Osmocote®, because it saves user labor and produces consistent growth, became a pillar of this strategy.
High value-added growers use Osmocote® extensively. These include producers of fruits, vegetables, cut flowers, woody ornamentals and trees. Greenhouse Product News, a nursery trade publication, reports that when purchasing a controlled release product, 73% of growers choose Osmocote® as their primary brand. In Southeast Asia, Central and South America, Osmocote® is used at rubber, palm and coffee plantations. Osmocote® is produced in a variety of longevities – even as much as 16 months for macadamia nut trees. In many locations, the Osmocote® product is combined with growing media to form a grower specified pre-mix.
Osmocote® Since the Late 80's
Sierra Chemical was sold to W.R. Grace Chemical Company in 1989 and the business was re-named, Grace-Sierra Horticultural Products Company. At the time Sierra employed 400 people, mostly in the U.S. It had sales of $115 million. In addition to manufacturing facilities in California, Pennsylvania, Arkansas, and South Carolina, Grace-Sierra established an international presence with a manufacturing base in the Netherlands, the European center for value-added agriculture.
On the strength of the Osmocote® technology, Grace-Sierra became the leading global provider of specialty fertilizers and related products. The customer focus remained with the professional community where the technical benefits of the product could be communicated on a one-to-one basis. The primary users continued to be nurseries, PGA golf courses, greenhouses and high value-added field crop farmers. In addition to its fertilizers, the business included premium potting soils and a line of conventional and bio-rational pesticides.
In 1994, W.R. Grace reorganized its total business and sold Sierra to The Scotts Miracle-Gro Company. It was christened, Scotts-Sierra Horticultural Products Company where it became a key component of Scotts Professional Business Unit. Osmocote® was produced at manufacturing plants in Charleston, SC, and Heerlen, The Netherlands. In early 2011, Israel Chemicals Ltd (ICL) acquired the Scotts Global Professional Business including the Osmocote® brand and its production facilities. As part of that transaction, Scotts retained a license to market Osmocote® branded products to consumers world-wide.
How Osmocote® Became a Consumer Brand
Strangely, the details about how Osmocote® became available to consumers are undocumented. We believe that sometime in the early 1980's, Grace-Sierra noticed that nurseries growers with retail operations occasionally resold small paper bags of Osmocote® to avid but amateur gardeners. Perhaps such customers noticed 50 lb. bags of Osmocote® on the floor of the greenhouse and asked about it. Retail nurseries may have offered 'dip-out' sales to their better customers because it wanted to be sure consumers had a successful experience with the plants that they were purchasing. Whatever ignited their interest, consumers sought smaller packages of Osmocote® and Sierra began to support them.
Upon moving to Scotts, Osmocote® was repackaged in water-resistant bottles and bags. That made it possible to merchandise the product on the plant-tables at DIY's and superstores. The increase in distribution supprted by advertising designed to build consumer awareness resulted in trippling of the consumer business.
The Osmocote Consumer Business Today
There are two consumer formulas. Plus Outdoor and Indoor Plant Food is appropriate for general use but it's especially well suited for containerized plants in boxes, pots and hanging baskets, and of course it is recommended for use indoors with ornamental citrus and succulents. The formula contains 11 mineral nutrients and has a 6-month longevity. It is the most complete Osmocote® plant food formula Scotts has ever made available for amateur use. The professional version is called, "Osmocote® Plus".
Flower & Vegetable Plant Food is intended for in-ground perennials and woody ornamentals in beds and borders. It's also ideal for vegetables and fruits like tomatoes, root vegetables, melons and berries that need both vigorous above-ground growth as well as strong root development. It has an NPK of 14-14-14 and a 4-month longevity. The professional version of this formula is called, "Osmocote® Classic".
An Interesting Connection
Osmocote® Plant Food for consumers is marketed and distributed by The Scotts Miracle-Gro Company. Bloomington Brands LLC manages the U.S. business under contract to Scotts. Bloomington Brands operates like a joint-venture between Scotts and Indiana University's Kelley School of Business. It provides one-year internships for MBA students and undergraduate seniors. Students bring energy and fresh ideas to the Osmocote® brand. The program began in 2003 and is supervised by Bob Stohler, a retired executive vice president of Scotts. Upon graduation, many former interns work full-time in marketing positions at Scotts.
Acknowledgements
In the preparation of this article, we are grateful for the support of Nursery Retailer Magazine (previously Nursery Business Magazine), www.NurseryRetailer.com.
To view a detailed article about the early years of Osmocote and the Sierra Horticultural Products Company available from that publisher in PDF format. Click here
"Here's the product information you'll want to know"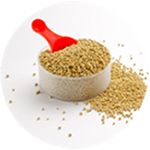 Why is Osmocote® the best?
Learn about Osmocote® Plant Food and find out how and why it works?
Who invented this stuff, anyway?
Osmocote® originated at the Archer Daniels Midland Co. in the mid-1960's.
Tell us what you think!
Your opinion is important to us. Please rate and review your favorite Osmocote® formula.
Questions about Osmocote®?
The FAQ section provides answers to the most popular questions about our products.
Sign up for the PlanterPlace newsletter
If you love to garden, you need the newsletter! When you sign up, you'll get our exclusive newsletter, bursting with gardening articles, videos, and tips.