The Osmocote® Difference
An all-in-one solution for the serious gardner. One application contains 11 essential nutrients and feeds up to 6 months. Works with virtually all plant varieties and growing conditions. Each granule is coated with a unique resin that controls nutritional release. Plants get what they need, when they need it.
Osmocote® Smart-Release® Plant Food Plus Outdoor & Indoor
NPK Analysis: 15-9-12 + Micronutrients
Available In Three Sizes
Feeds up to 37 sq. ft., 19 gallons of potting soil.
Where to Buy
Feeds up to 75 sq. ft., 38 gallons of potting soil
Where To Buy
Feeds up to 300 sq. ft., 151 gallons of potting soil
Where to Buy
Osmocote® Smart-Release® Plant Food Plus Outdoor & Indoor Formula
Guaranteed Analysis
Total Nitrogen(N)†

15%

8.4% Ammoniacal Nitrogen
6.6% Nitrate Nitrogen

Available Phosphate(P205)†

9%

Soluble Potash(K20)†

12%

Magnesium(Mg)†

1.3%

0.9% Water Soluble Magnesium (Mg)

Sulfer(S)†

6.0%

Boron(B)†

0.02%

Copper(Cu)

0.05%

0.05% Water Soluble Copper (Cu)

Iron(Fe)†

0.05%

0.09% Water Soluble Iron (Fe)
0.01% Chelated Iron (Fe)

Manganese(Mn)†

0.06%

0.06% Water Soluble Manganese (Mn)

Molybdenum(Mo)†

0.02%

Zinc(Zn)†

0.05%

0.019% Water Soluble Zinc (Zn)
Derived from: Polymer-Coated: Ammonium Nitrate, Ammonium Phosphate, Potassium Sulfate, Magnesium Sulfate, Sodium Borate, Iron Phosphate, Iron EOTA, Manganese Sulfate, Sodium Molybdate, Aibc Sulfate, Copper Sulfate and Zinc Oxide.
†The Nitrgoen, Phosphate, Potash, Magnesium, Sulfer, Boron, Iron Manganese, Molybdenum, and Zinc sources have been coated to provide 12.7% coated slow-release Nitrogen(N), 7.6% coated slow-release Available Phosphate (P2O5), 10.2% coated slow-release Soluble Potash (K2O), 1.1% coated slow-release Magnesium (Mg), 5.1% coated slow-release Sulfer (S), 0.015% coated slow-release Boron (B), 0.35% coated slow-release Iron (Fe), 0.05% coated slow-release Manganese (Mn), 0.015% coated slow-release Molybdenum (Mo), 0.015% coated slow-release Zinc (Zn).
Information regarding the contents and levels of metals in this product is available on the internet at http://www.regulatory-info-sc.com
WARNING: This fertilizer contains molybdenum (Mo). The application of fertilizer materials containing molybdenum (Mo) may result in forage crops containing levels of molybdenum (Mo) which are toxic to ruminant animals.
How Does Osmocote® Plant Food Work?
Osmocote® Plant Food consists of a homogeneous nutrient prill coated with a semi-permeable resin derived from linseed oil.
The coating utilizes the natural principle of osmosis. Moisture in the soil penetrates the coating and dissolves the nutrients in the prill.
Nutrients are released at the same rate the plant's root system takes-up nutrients from the soil, neither under or over-feeding the plant.
How to Apply Osmocote® Plant Food
(1 scoopful = 3 tablespoons)
Spread 1 scoopful of plant food per 2 gallons of potting soil or per 4 sq. ft.
Mix into top 1-3
inches of soil
Reapply plant food
every 6 months
"Here's the product information you'll want to know"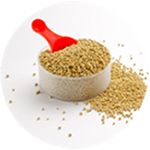 Why is Osmocote® the best?
Learn about Osmocote® Plant Food and find out how and why it works?
Who invented this stuff, anyway?
Osmocote® originated at the Archer Daniels Midland Co. in the mid-1960's.
Tell us what you think!
Your opinion is important to us. Please rate and review your favorite Osmocote® formula.
Questions about Osmocote®?
The FAQ section provides answers to the most popular questions about our products.
Sign up for the PlanterPlace newsletter
If you love to garden, you need the newsletter! When you sign up, you'll get our exclusive newsletter, bursting with gardening articles, videos, and tips.