Osmocote®
Flower & Vegetable
4.5 lb Bottle
Osmocote®
Flower & Vegetable
1 lb Bottle
Osmocote®
Flower & Vegetable
2 lb Bottle
Osmocote®
Flower & Vegetable
8 lb Bag
Osmocote®
Outdoor & Indoor
1 lb Bottle
Osmocote®
Outdoor & Indoor
2 lb Bottle
Osmocote®
Outdoor & Indoor
8 lb Bag
"Here's the product information you'll want to know"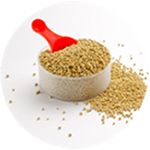 Why is Osmocote® the best?
Learn about Osmocote® Plant Food and find out how and why it works?
Who invented this stuff, anyway?
Osmocote® originated at the Archer Daniels Midland Co. in the mid-1960's.
Tell us what you think!
Your opinion is important to us. Please rate and review your favorite Osmocote® formula.
Questions about Osmocote®?
The FAQ section provides answers to the most popular questions about our products.
Sign up for the PlanterPlace newsletter
If you love to garden, you need the newsletter! When you sign up, you'll get our exclusive newsletter, bursting with gardening articles, videos, and tips.