Outdoor & Indoor Plus
An all-in-one solution for the serious gardner. One application contains 11 essential nutrients and feeds up to 6 months. Works with virtually all plant varieties and growing conditions. Each granule is coated with a unique resin that controls nutritional release. Plants get what they need, when they need it.
To write a review you will need to login or register.
"Here's the product information you'll want to know"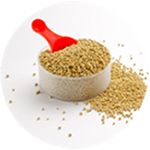 Why is Osmocote® the best?
Learn about Osmocote® Plant Food and find out how and why it works?
Who invented this stuff, anyway?
Osmocote® originated at the Archer Daniels Midland Co. in the mid-1960's.
Tell us what you think!
Your opinion is important to us. Please rate and review your favorite Osmocote® formula.
Questions about Osmocote®?
The FAQ section provides answers to the most popular questions about our products.