Serious plant nutrition for serious gardeners
Passionate gardeners rely on Osmocote® to feed their plants, season after season, and so should you. Its Smart-Release® technology provides plants with a continuous and consistent supply of nutrition for 4 – 6 months, depending upon the formula selected, so you can concentrate on other gardening tasks. With Osmocote® you can garden with confidence because your plants will get exactly what they need, when they need it.
Osmocote® Outdoor & Indoor Plus
Ideal for annuals in beds and for container plants because it feeds 11 essential nutrients up to 6 full months.
Osmocote® Flower & Vegetable
Formulated for plants that need strong root development and robust above-ground growth, like veggies and perennials.
"Here's the product information you'll want to know"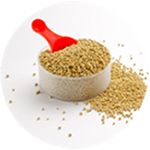 Why Is Osmocote® the Best?
Learn about Osmocote® Plant Food and find out how and why it works?
Who Invented This Stuff, Anyway?
Osmocote® originated at the Archer Daniels Midland Co. in the mid-1960's.
Tell Us What You Think
Your opinion is important to us. Please rate and review your favorite Osmocote® formula.
Questions About Osmocote®
The FAQ section provides answers to the most popular questions about our products.
The product information you want to know
If you haven't used Osmocote® before, click the link to read the comments and reviews of others.