/
/
/
Why Not Add Fruit Plants to Your Garden This Season
Edible Gardening
Why Not Add Fruit Plants to Your Garden This Season
Growing your own fruit doesn't necessarily require dedicating the space and resources of a full blown orchard. By focusing on small fruits, you can enjoy a bounty of sweet harvests throughout the entire growing season. In this article Amy Grisak challenges, "Why not add fruit plants to your garden this season?"
Raising some of these smaller fruits, along with scrumptious berries, is possible for a gardener who uses nothing but containers to someone with an ample amount of space. Many of the varieties are adaptable with different growing habits and sizes allowing them to work into a number of situations. The key is to choose the ones that work best for your growing style, as well as what you want in a homegrown fruit, but if you plan carefully, you can harvest from the early summer all the way until frost.
Strawberries – Fresh strawberries from your own garden can only be described as sublime. Warmed by the summer sun, they are sweet and perfect. Thankfully, they produce extremely well, as long as you have a little patience.
There are several types of strawberry varieties, and the key is picking the right one for how you want to use them. If making a big batch of strawberry jam is your goal, opt for the June-bearing varieties that produce a large flush of berries within a short amount of time so you can harvest enough to use. If snacking on them for weeks is more your style, go with the ever-bearing types. They spread out their blooms and berries for weeks, sometimes even to the end of the summer. Day-neutral berries start early in the season produce in waves, typically every few weeks and can produce some nice, big fruit.
To plant strawberries, spend the time and effort to amend the soil, whether it's in a container, in the ground, or in a raised bed. Strawberries produce best when they have ample nutrition to develop the big, luscious berries. Find plants at your local nursery or order them online. Space them 12-18 inches apart (this might mean only 1-2 plants per container, depending on the size) and dig a hole large enough to the spread the roots. Plant the strawberry up to the crown burying the flared out roots.
Consistently water the plants since their shallow roots are susceptible to drying out, and fertilize them regularly (time-released Osmocote works very well – in fact, it's what professional growers use). In arid regions, mulch is also a wise choice in order to retain as much moisture as possible.
If you have the patience, pinch off the blooms the first season. It's painful to miss out on fruit the first year, but it allows the plants to focus all of their energy into root development. Another draconian practice is to eliminate the daughter plants sent out on runners for the same reason. You can replant these, though, if so desired.
Strawberries Ripening – Photo from PlantersPlace Library
Related Featured Articles
Related Videos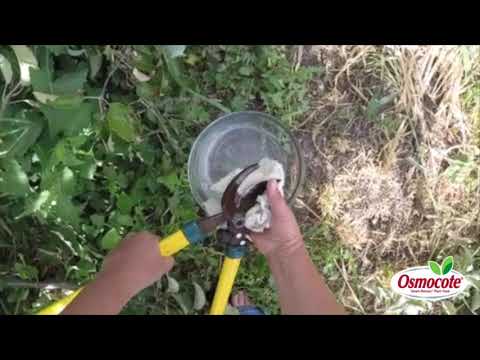 Treating Fruit Trees for Fire Blight
Runtime: 3:14
Watch Video
How to Plant Strawberries and Prepare a Strawberry Bed
Runtime: 2:58
Watch Video
Related Blogs