/
/
/
Why Not Add Fruit Plants to Your Garden This Season
Edible Gardening
Why Not Add Fruit Plants to Your Garden This Season
Gooseberries– These cousins of the currant are very popular in Europe. But, they can be hard to find at local Farmer Markets, or other typical produce outlets. That's a good reason to grow your own. The round fruit can be a light green to a blush rose boasting a tangy grape-like flavor with a sweet undertone. Gooseberries are delicious as fresh snacks and make out-of-this-world pies and tarts.
There are two types, the European and American varieties with the American ones having the reputation of generally being hardier and better adapted to various conditions, along with accompanying higher levels of production. The European varieties are typically bigger and more flavorful. Pick the type that works the best for you.
If you're going to grow gooseberries choose a variety that is resistant to blister rust, a fungal disease that that affects white bark pine species. Because of this relationship, gooseberries and currants were banned in the United State around 1900 until the '60s since the disease decimated these important pine species. There are still areas where gooseberries are illegal, so check with your local extension office before planting.
Gooseberries prefer more humid regions, and can grow in full sun to even part shade, making them a good addition to a home food forest. Give them room, roughly 5-6 ft. between plants, and prune them when they are dormant to encourage a more open growing habit and higher production.
Currants – Like gooseberries, currants thrive when planted in fertile soil in a sunny area, but not with a harsh southern or western exposure. For best results, ensure they have a consistent water supply. Plant 3-4 ft. apart, depending on the variety.
There are a number of varieties of currants within the 4 prominent types – black, white, pink, or red currants. The black currants typically have the strongest flavor and are best for jellies or pies. White currants are usually larger and juicier and better for fresh eating. Like the black currants, red ones are best used in recipes, and the pink are in between the red and the white in their flavor and uses.
Currants – Photo by Amy Grisak
Nanking cherries – If you're looking for a beautiful shrub that produces delicious fruit, consider the Nanking cherry. Hardy from Zones 3-7, it grows up to 12 ft. tall (if you don't prune it) and is covered in dainty white blossoms in the early spring around the time when daffodils are blooming. The fruit is less than 1/2 inch in diameter, but tastes like pie cherries making absolutely delicious jellies.
Grow them in full to partial sun with 4-5 ft. between the shrubs, and be sure to provide consistent watering. They thrive in nearly any soil type, except in those that have poor drainage, but it's always a good idea to amend the soil with organic matter before planting. Be sure to provide enough space to walk around them to harvest.
American plums – While not every gardener has the room for conventional plum trees, it's easy to plant the native American plum to provide an ample harvest of these small and tasty fruits. They can range from a few feet tall to over 20 ft., depending on the region, and tend to grow in more of a thicket habit. There isn't a main trunk like on a tree.
Native plums are smaller and have a tart flavor, and make fantastic jams and other preserves, including fruit leather. White flowers form in the early spring, and the plums usually ripen towards the end of the summer. The greatest challenge is keeping the deer from eating the fruit before you do, and unless you have a large planting of these prolific shrubs, you'll want to put some sort of fence – electric or a complete barrier – around them to be able to pick some for your family, and not Bambi's.
Native Plumbs – Photo by Amy Grisak
Related Featured Articles
Related Videos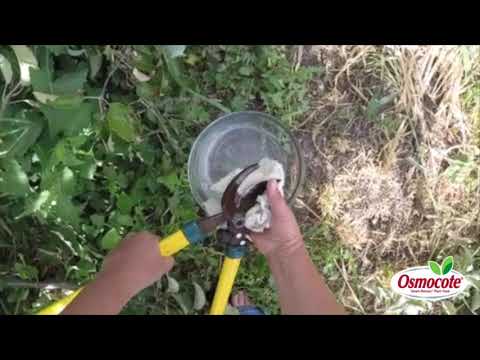 Treating Fruit Trees for Fire Blight
Runtime: 3:14
Watch Video
How to Plant Strawberries and Prepare a Strawberry Bed
Runtime: 2:58
Watch Video
Related Blogs